This is part 3 of my article, How to Shorten the B2B Sales Cycle with Case Studies. Read the full article here.
Engage Buyers' Emotions
Advertising Mad Men recognized the emotional component of buying decisions over 50 years ago.
"Purchasing seems like a very rational kind of thing, but in fact we don't make decisions rationally. We make decisions emotionally.6"
A recent trend in advertising, dubbed 'sadvertising,' seeks a stronger emotional response from buyers, and to tell a story that connects with people. Technology companies have employed this tactic successfully in recent product ads, as in these examples: "No White Flags" (Microsoft), "Dear Sophie" (Google) and "Chérie's Verse" (Apple).
Effective B2B case studies also resonate with buyers emotionally, satisfying the need for connection. The customer's own words forge that connection better than any marketer's prose. People relate to other people, their stories, their challenges and their success.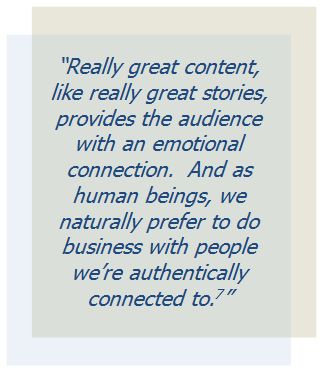 A great example is this quote by an IT director at a South Carolina school district from a recent cloud videoconferencing case study:
"These kids come from families that don't have a lot. I will never, ever forget when a reporter asked one of the students, 'What did you get out of the project?' and she said… 'It feels good to help other people!'"
Another example:
One month after launch, the founders of a NYC IT services company entered the World Trade Center on 9/11, just before the first plane hit. The experience forged a business continuity mindset that their small business customers relate to well.
Their customer service performance during hurricane Sandy makes the reader think, "Wow, these people must really care." Here's a quote from a case study about the firm:
"In the days leading up to Sandy, every employee was moved to a support role, checking backups and making sure clients were as prepared as possible. Within 72 hours of Sandy, we recovered all of our 400+ customers. With that effort, we not only kept all of our customer base, we have expanded another 50% since Sandy."
6"The Rise of Sadvertising, Why Brands are Determined to Make You Cry, By Rae Ann Fera," Fast Company
7"The Future of Marketing Automation," johnsmolucha.com