The second part of the article "How to Shorten the Sales Cycle with Case Studies addresses how case studies get prospects to Know, Like and Trust your company, all prerequisites to a purchase decision.
Moving prospects through "know, like and trust" to get to the purchase decision takes time and 7-13 touches, according to current marketing thought. B2B case studies speed up the process by addressing all three milestones in a single document, performing like three or more touches: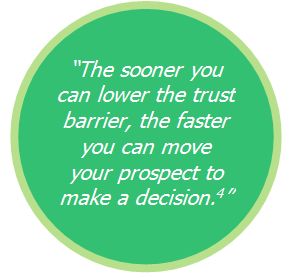 1. Prospects get know your company reading details about the business, its products and services.



"Phast Online has extensive experience with QuickBooks and other financial applications."




"Concentric Solutions is more than a software development company. They are a trusted business advisor for companies having technology as a core part of their business."
2. Feelings expressed in case studies influence the buying decision. When a satisfied customer says they like you, others are more prone to as well3. 



"I love Phast Online! The time saved allows me to take on more clients with the same staff."




"It just works and I love it!"
3. Positive feedback, quantified results and quotes from customers in case studies build trust, like getting advice from peers when you ask, 'Would you buy from them?'
Does MedPix Hosted save 62 hours per week as MedPix claims? "Easily, and more," responded Williams.




"I would recommend them to similar organizations because of their competency, collaborative spirit and ease to work with. I consider them a trusted advisor."



Here's a good quote to wrap it up:
"Include case studies that document the success of companies that you have served in the past. Any positive feedback or proven results will help assure visitors that they can be confident choosing your business.4"
Watch for my next post on how case studies engage buyers emotions.
3"Emotions Are Contagious—Choose Your Company Wisely," psychologytoday.com
4"Content That Helps Shorten Your Sales Cycle," impactbnd.com